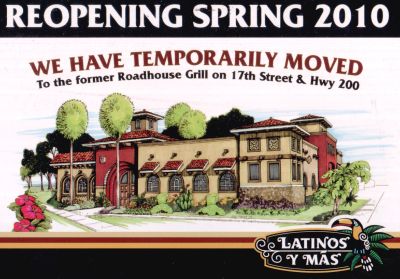 Latinos Y Mas is renovating their location. And what a makeover! In the mean time, since no one likes eating to the sound of construction workers, they have picked up the whole operation and moved a few blocks down the road to the old Roadhouse Grill. (Yes, you'll have to remember the parking rules of that strange lot.)
In addition to the renovations, is a new logo. I'm impressed. It's familiar, but new and iconic. I love the toucan.
The place was packed. The chefs have acclimated to the new kitchen, because the food was excellent as always. I look forward to the new digs.

Both comments and pings are currently closed.