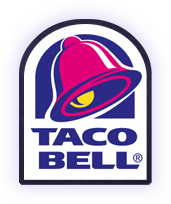 I knew sooner or later someone would ask, "what about Taco Bell?" So, let's get it out of the way. Basically this is the bottom of the barrel when it comes to authentic Mexican food. Most of the menu items do not have Mexican names. The only reason you should eat here is because there are no other Mexican restaurants within walking distance or (if you have a car) you don't have enough time to sit down for a meal.
Taco Bell is like the unofficial board of Mexican culture and tourism. White people take their kids to show them what Dora and Diego eat. Sadly, Swiper stole all the flavor and replaced it with packets of spicy ketchup that come in three levels of heat – tangy, acidic and battery.
That said, Taco Bell does offer cheap tacos and they stay open pretty late. Which is good if your sister's family just arrived from the airport and your 2nd shift ends 10 minutes before they arrive at your house.
Also, Taco Bell uses a flour tortilla that never falls apart. Their restaurants are located everywhere, even in KFC, PizzaHut, A&W, Pepsi outlets.
Best Item: Steak Soft Taco Supreme and Bean Burrito
Worst Item: That bean burrito later that night.
Website: www.tacobell.com

Both comments and pings are currently closed.