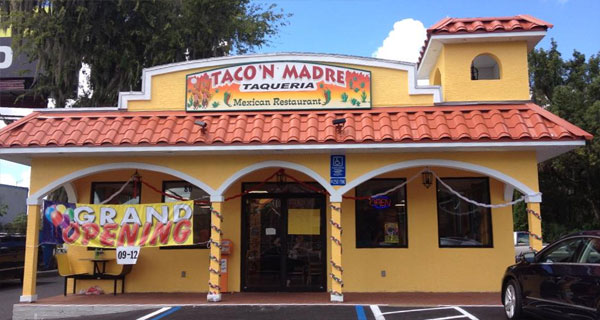 This restaurant with a baffling name started only slightly larger than a taco stand, but now has an updated dining area. The food is excellent. They use cilantro instead of iceberg lettuce, steak instead of ground beef, flavorful rice, and their own horchada. They also have a cooler of imported Mexican soft drinks.
They offer two sauces – green and red. Green is like a tomatilla with a fresh, tangy flavor. Red has a rich, smoky flavor. Both have plenty of heat. Gringos, go sparingly your first time, but try both. Overdue pregnant women, pour on both until the baby kicks his way out.
The servers are friendly and prompt.  The dining area is bright, cheerful, and  decorated with sombreros and wall hangings, including the portrait of a Mexican revoltionary. The TV suspended in the corner let's you  catch up on your daytime Spanish soap opera or cheer for the soccer game on Sunday afternoons.
Speaking of Sunday, that's the best time to try their signature dishes of an untypical cactus or a whole fish that's deep-fried for a crunchy crust and flaky, tender middle.
Taco N Madre is a great place for a quick lunch with a friend or coworker. It's close to downtown, across from the court house. No chips or salsa here, but it was 5th visit before I noticed.
Best Item: Quesadilla, perhaps the best in town.
Worst  Item:  Sopes, great for healthy eaters. But, I prefer the simple flat tortilla.
Location:
Website
80 NW Pine Ave
Ocala, FL 34475

Both comments and pings are currently closed.